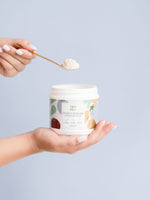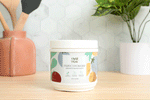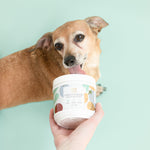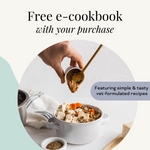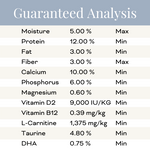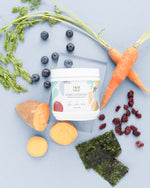 Perfect Powder Supplement
Regular Price

$35.00

Sale Price

$35.00

Regular Price

Unit Price

per
Free shipping + recipe e-cookbook with your purchase!
There's a new homemade dog food supplement on the block! 
Opal's Perfect Powder is a vitamin, mineral & amino acid supplement designed to perfectly balance your pup's meals. Add Perfect Powder to our simple, vet-formulated recipes (included with every purchase!) to ensure your dog is getting all the nutrients they need. Cooking at home for your dog has never been easier. 
👩‍⚕️   Formulated with experts in canine nutrition
🌱  100% vegan, non-GMO and made in the USA
🍽️   Super-tasty with a savory smell & flavor boost 
🫙   Sealable stay-fresh canister
🐶  Allergy-friendly, clean ingredients
🌈  The rainbow of nutrients your dog needs
📖  Pairs with the healthy, vet-formulated recipes in our free e-cookbook
Each and every tasty ingredient in our Perfect Powder formula was carefully selected for top-notch quality and optimal nutrition to help your pup shine their brightest.  
✨ Featuring ✨
Power-packed, plant-based omega-3 from marine micro algae
Vegan vitamin D2, taurine & L. Carnitine
USDA Organic Canadian sea kelp for a natural source of iodine
Non-GMO fruit & veggie blend with carrot, blueberry, sweet potato & cranberry 
INGREDIENTS: Potassium Chloride, Dicalcium Phosphorus, Natural Vegan Flavor, Tricalcium Phosphate, Dicalcium Phosphate, Choline Chloride, Taurine, Dried Marine Micro Algae, Methionine, Organic Kelp, Magnesium Sulfate, Sea Salt, Zinc Proteinate, Dried Blueberry, Dried Carrot, Organic Sunflower Oil, Dried Sweet Potato, Dried Cranberry, Ascorbic Acid, Vitamin E, Vitamin A, L-Carnitine, Iron Proteinate, Biotin, Copper Proteinate, Selenium, Pantothenic Acid, Manganese Proteinate, Nicotinic Acid, Riboflavin, Vitamin D2, Thiamine Mononitrate, Pyridoxine, Vitamin B12, Folic Acid.
👉  LEARN MORE: Our Ingredients
Great Product
I was worried my male Doxie wouldn't eat with the vitamins on his food, he's a very picky eater but he loves it. We have 4 dogs and they all love the taste and it's nice to know they are getting the supplements they need.
I have a question,
Is this supplement have measurements for a 5 lb Yorkie and are the recipes scaled for a 5 lb Yorkie?
Great supplement
As a homemade dog food enthusiast, this supplement provides the nutrients necessary for good health.
Happy Birthday Parx UPDATE Opal Gives hope to Acute Lymphocytic Leukemia
Happy Birthday Parx.
6 months ago my dog was given a death diagnosis (Acute Lymphocytic Leukemia)or the 2nd time. they didn't think he would live 1 day never mind 6 months and be cured.
Well today is his Birthday and the Oncologist checked his liver values ,Lungs and blood and gave him a clean bill of health. All his blood levels are normal and he has no cancer cells .
We took the path of no aggressive treatment and was just going to keep him comfortable.
My Wife cooked the Opal recipes and used the Opal supplement which he still barks for everyday till this day along with turkey tail mushroom .
He Put on Weight and gain strength and mobility while on the recipe . Parx went from not being able to stand to walking 2 miles a day and climbing stairs.
I truly believe Finding Opal saved his life.
The oncologist called him a Miracle Dog as this is the 2nd time he has beat this cancer.
Thank you Opal for helping us in our journey
Happy Birthday Parx UPDATE Opal Gives hope to Acute Lymphocytic Leukemia
Happy Birthday Parx.
6 months ago my dog was given a death diagnosis (Acute Lymphocytic Leukemia)or the 2nd time. they didn't think he would live 1 day never mind 6 months and be cured.
Well today is his Birthday and the Oncologist checked his liver values ,Lungs and blood and gave him a clean bill of health. All his blood levels are normal and he has no cancer cells .
We took the path of no aggressive treatment and was just going to keep him comfortable.
My Wife cooked the Opal recipes and used the Opal supplement which he still barks for everyday till this day along with turkey tail mushroom .
He Put on Weight and gain strength and mobility while on the recipe . Parx went from not being able to stand to walking 2 miles a day and climbing stairs.
I truly believe Finding Opal saved his life.
The oncologist called him a Miracle Dog as this is the 2nd time he has beat this cancer.
Thank you Opal for helping us in our journey